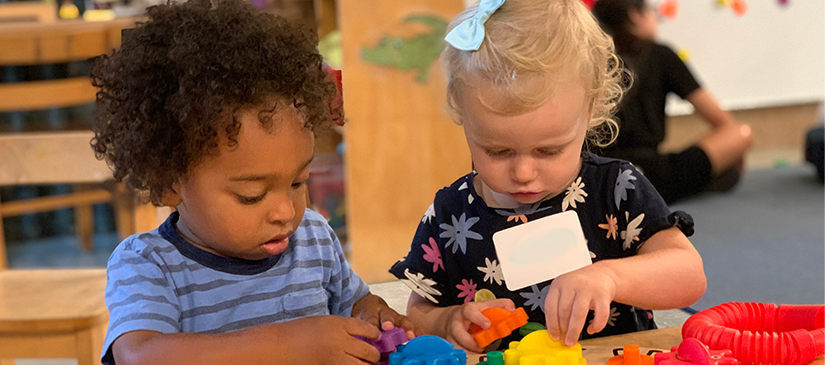 Montclare Curious Crocs - Fall 2023
October 10 - December 14
Tuesdays & Thursdays 9:00 -10:00 AM
Tuesdays & Thursdays 10:30 - 11:30 AM
This program focuses on a child's ability to build relationships with other adults and introduces them to new learning experiences outside the home. Although this program does not involve having children separate from their grown up it will help prepare children for what preschool is all about.
Toddlers are just beginning to test out their independence. A certain amount of back and forth from "home base" (a trusted caregiver) is not only expected, but is typical of this age. Toddlers eagerly toddle away, and then return to their caregivers "checking-in" and making sure that their special grown-up is still available if needed. In Curious Crocs, we gently encourage toddlers' budding independence by providing a safe space for exploration and discovery with our experienced teaching staff.
These classes are the perfect way for toddlers to explore and play in a secure, age-appropriate environment with our outstanding, experienced staff. In addition to following a predictable schedule, each session will feature something special!
Fall Curious Crocs will be held in Montclare Chilren's School and will take place Tuesday, October 10 - Thursday, December 14. There will be 9 Tuesday sessions and 9 Thursday sessions.
Curious Crocs is for ages 12 - 24 months.
If you have questions about the Curious Crocs program, you can contact Sharona at [email protected].